Christmas 1


Christmas 2


Bookshop 1


Bookshop 2


Bookshop 3


Gallery





Ê Ê Ê Ê Ê


Christmas
I don't know about you, but I love collecting decorations for the Christmas tree. Many of them I have made myself over the years and I have marked them with an asterisk. This is just a small selection. Some of them were originally keyrings. Many are souvenirs of foreign holidays. I like the look of a tree that is filled with anything and everything, with every colour imaginable. Scroll down the page to see the close-ups of some of the decorations.
New for this section is a Christmas Bookshop. Click on the link to go straight there.
New to this section is a chest of drawers that contains many new decorations. Many are regular souvenirs that I add to the tree. Each holds a special memory. Go here 'What's in Your Drawers'
These are updated pictures of the tree. Many of the old favourites are still there, but you can see lots of new decoarations. None of the decoations have beenthrown awa, they don't all fit on the tree but they are kept in a chest of drawers where they can be accessed all year round.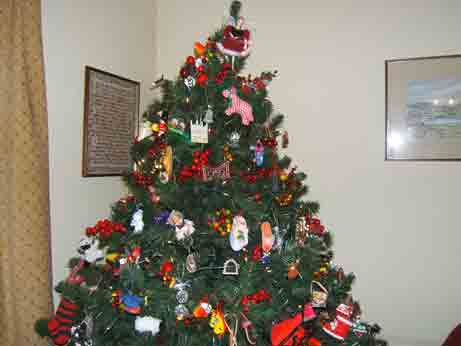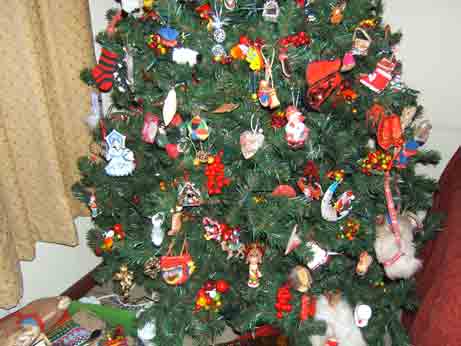 | | | | | |
| --- | --- | --- | --- | --- |
| | | | | |
| 3 Wise Men | American Heart | Angel | Treehouse | Birds on swing |
| | | | | |
| Cowboy boot | Canadian moccasin | Clown pull toy | Santa mermaid in bath | Elephant pull toy |
| | | | | |
| Embroidery of boy in bed on Christmas Eve* | Embroidery of girl with doll* | Canadian canoe | Fairy from the top of the tree | German doll |
| | | | | |
| German gluwein stall | Harry Potter | Hot air balloon* | Knitted dollies | Black faced sheep |
| | | | | |
| Lappish boy doll | Reindeer embroidery* | Lappish girl doll | Lappish hat, gloves, boots | Maine cow |
| | | | | |
| Maine lobster pot | Maine moose | Mexican patchwork | Micky and Minnie Mouse | Walnut and cone decoration* |
| | | | | |
| Norwegian Viking | Cathedral window* | Patchwork ring* | Peruvian boot | Peruvian handbag |
| | | | | |
| Pooh | Red check donkey | Chinese mandarins | Felt slippers* | Russian doll |
| | | | | |
| Santa face* | Santa with sleigh | Mickey skating | Swiss hiking boot | Swiss woodstore |
| | | | | |
| Teddy | Tigger with gift | Fimo game boards* | Violin | Wedding Cake House |
| | | | | |
| Bird in cage | Gingerbread man* | Rainbow* | Teddy* | Yellow donkey* |
| | | | | |
| Carved decoration* | Straw work house | Theatre mask* | Pixie embroidery* | Girl with trumpet* |