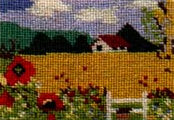 How to display a quilt
One of the things that I find disappointing in an otherwise beautiful room setting is seeing bedding sticking out from the bed. Unless we were elves and could sew the finest gossamer material with invisible stitches, and no thickness to speak of, we will always have problems draping regular material. There are many good ideas on how to do this, but my personal favourite is very easy and the first photo shows what to do.
Take a length of thread, doubled, and sew across the underside of the bed, catching the quilt on the underside. This takes only minutes, and the bed can then be moved around without any fear of disturbing the quilt. A quick snip with the scissors is all that is needed to remove it.