The early pieces


Bedding


Knitting 3


Knitting Tips


The Skirt Collection


Most Recent Work 1


Most Recent Work 2


Most Recent Work 3


Most Recent Work 4


Most Recent Work 5


Most Recent Work 6


Most Recent Work 2010


Smaller Scale knitting


Display Cabinet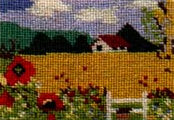 Miniature Knitting

The early pieces
Click on images for larger pictures
Knitting Tips - click here
New A video that shows me knitting in miniature to give you an idea of the size needles and thread that I use.
http://www.youtube.com/watch?v=FKdSn0ZPbek
I know that a lot of people come looking for free knitting patterns from me. I'm sorry that none are written up and to be honest they wouldn't fit a doll anyway -the requirements for a mannequin are less stringent than a doll. I am loathe to sell patterns that may not fulfill other people's expectations, and to give away free patterns would be unfair on other people who are trying to make a bit of a living from their own patterns.
Knitted with size 180 thread on number 24 needles.The tension varied, so I started again.
The re-styled sweater. Inspired by a pattern by Annelies de Kort.
The intention is to finish this piece and make a complete sweater. In the meantime it is stretched and stitched onto the card backing in order that it doesn't just curl up and get lost....
The picture above shows the comparative sizes of some of the sweaters below, with a penny for further comparison
| | |
| --- | --- |
| | This pattern came from Buttercup Miniatures. Would fit a large gentleman doll. Size 19 needles. |
| The next two smaller sweaters are aimed at the ladies in the house. The patterns were found in an old dictionary of knitting stitches. Size 19 needles. | |
| | Click on all the photos for larger images. Size 19 needles. |
| My first attempt at Aran in miniature. Size 19 needles. | |
| | This pattern was in the February 2003 copy of The Dollhouse Magazine. Would fit a long slender doll. NB The pattern says to knit 32 rows of stocking stitch for the main body, but their picture only has about 26. Size 19 needles. |
| The same pattern as above, but with fewer rows in the main body. The proportions are better. Size 19 needles. | |
| | New learning curve here - the subtle difference between the dark green and the brown is lost in miniature. Next time I will use more contrasting colours. Working under a bright magnifying lamp meant that this wasn't obvious while working on it. Size 20 needles. Pattern by Buttercup Miniatures. |
| First attempt at knitting lace with very fine sewing thread. Size 20 needles. This pattern was in International Dolls House News and I will credit the designer as soon as I find it. | |
| | I used YLI Jeans Stitch thread here. Child size sweater. Size 20 needles. |
| It's funny how your memory plays tricks on you. At first I remembered Dad's sweater as having cream snowflakes, but all the while that I was knitting the miniature sweater the whole family agreed that it was as close a resemblance as possible. Only when it was finished and I looked at the photo again, I found that it had indeed been cream not green snowflakes! The photo was taken around 1978. Size 20 needles. | |
| | This is my favourite sweater of all. The dogs are courtesy of a Sasha Kagan pattern which I adapted. The neckline I made up as I went along and I was very pleased with how it lay flat and the addition of the black ribbon finished it off nicely. It was never intended to be for sale, but it now proudly sits in the collection of Teresa Yu. |
| I made this sweater for myself around 1980, the picture is from the pattern as I cannot find the photo of me wearing it. Size 20 needles. | |
| | This was knitted with flower thread on size 20 needles. |
| This was my first attempt at knitting with 180 thickness thread on size 24 needles. It is placed over the handle of a size 20 knitting needle. | |
| | Penny plain, tuppence coloured? |
There are more sweaters that I have knitted which aren't pictured here. I am proud to be included in Teresa Yu's collection.
To see more of my knitting click here to go Teresa's home page. Click on 'Clothing' and then go to the Knitting page 2. While you're visiting her site, have a look at her wonderful collection of dolls, clothing, food etc.
Miniature Gallery
of Dallas
I am also delighted to have been asked to knit outfits for this new shop that opened in January 2004. They do not have a website yet, but click on the thumbnails to see the shop itself.
A small selection of the many sweaters I've knitted.